Company Profile
Company Name
Showa Kako Co., Ltd.
Representative Director and President
Takamasa Akita
Address
3-1-45 Fukumachi, Nishiyodogawa-ku, Osaka, JAPAN 555-0034
Phone Number
+81-6-6476-5600
Fax Number
+81-6-6476-5651
Date of establishment
May 1958
Fiscal year end
Once a year in April
Number of employees
17 people
Capital amount
¥12,600,000
Net Sales
¥1,256,900,000 (FY 2018)
List of sales and manufactured products

Edible oil for food machinery
(Vinegar matching , sushi and onigiri molding machine etc…)
Cooking oil
Edible lubricant oil
Edible glossary oil
Oxidation resistant oil
Rice cooking oil
Resin processing for food equipment
History of the company
1958
Established. Started manufacturing margarine, food release oil, food additives
1965
Started handling of fluorine resin processing to metal
1968
Launched release of emulsification type release oil "Pan-grease No.500"
1971
Launch of Mustard Margarine "Mustard Fat"
1974
Launched sales of high-class rice oil "Peneloph"
1985
Launched release of high oxidation stability release oil "Pan-grease No.7000SSK"
1991
Launched sales of spray-type top plate oil "Touch"
1995
Launched sales of emulsion type high viscosity box oil "Box oil white high viscosity"
2001
Launched sales of non-allergenic spray-type top plate oil "ZERO"
2006

ISO9001

Certification acquisition(Registration number C2016-03149-R1)
2012
Completed and relocated new headquarters plant
2014
Launched sales of "Smoothy Neo", an oil for food machinery overseas
2016

FSSC22000

Certification acquisition(Registration number C2016-03149-R1)
FSSC22000/ISO9001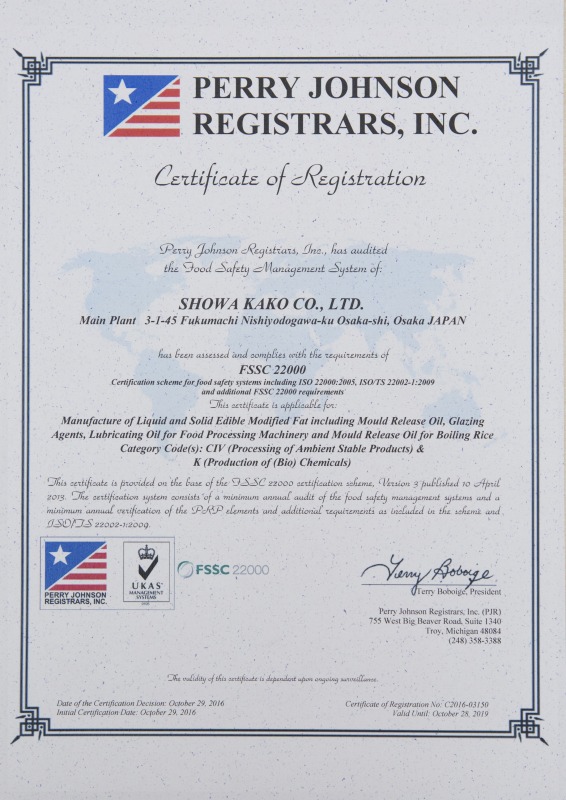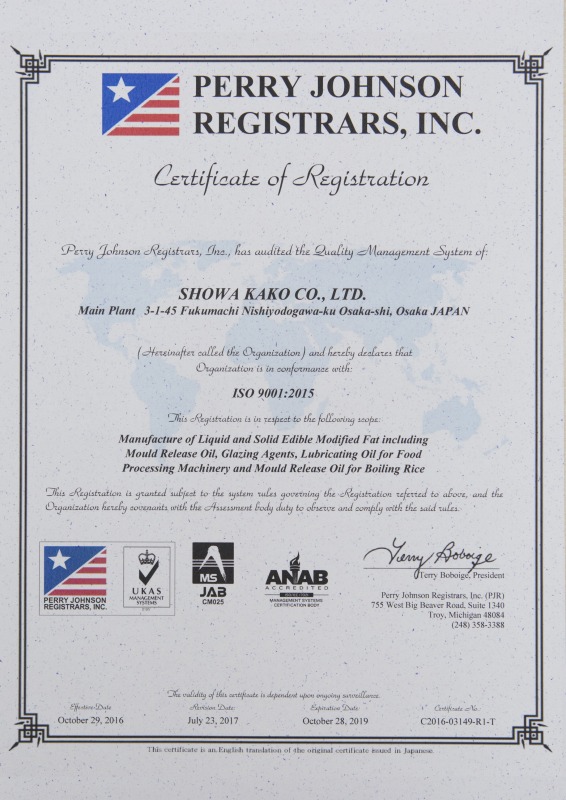 About Mold Release Oil
Edible mold release oil is the product made from fats and oils used in food to prevent sticking of products to molds, top plates, containers, machines, etc.

Release oil has three strengths compared to ordinary salad oil
"Wide spread ability"
"Ability to coat"
"Power of release from mold".

These three properties differ depending on the type of mold release oil, and are used depending on the type of the coating on the mold, the type of machine, etc.
Products using our oils
What is sold at a convenience store
Bread, side dish bread, confectionery bread
Baumkuchen, Financier, Cream puff, Eclair, Waffle
Hot cake, Thai grill, Takoyaki, Okonomiyaki, Japanese sponge cake,
Chocolate with crunch, porridge, gummi, rice cake,
pong candy, almond, Dumplings made with a wrapping machine
Lunch box, rice ball, pasta and so on.
Our Strengths
Rich lineup
We have a rich lineup of over 300 types mainly for confectionery and baking.
It is possible to meet the various demands of users.
Small lot correspondence
In order to meet a wide variety of needs, it is possible to manufacture custom-made release oils from small quantities.
Proposal of application method
(Sprayer painting machine etc.)
It is important to consider the combination of "How to paint" and "How to spray" in order to demonstrate all of abilities of mold release oil.
In cooperation with many food machine manufacturers, we can propose not only mold release oil but also total manufacturing process.